Announcements & News
The Garnett Recreation Center
WELCOME TO "THE REC"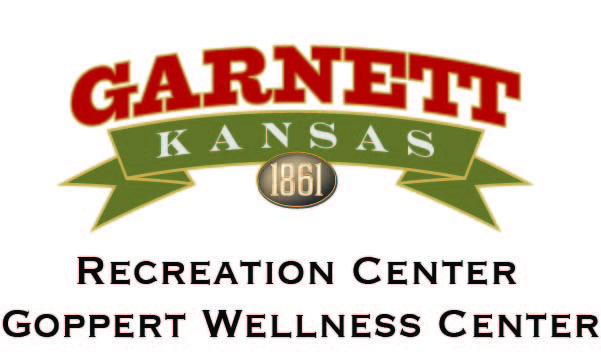 Youth Programs
SPORTS FANS!!!!

We have an opportunity for our youth. FREE, FREE, FREE!!

Instructional Days: Mondays/Thursdays

6pm - 7:30pm

June 22nd - July 16th

Competition Days*

July 17th

July 18th (2 sessions)

July 19th

*Times for competitions are TBD

GRAB YOUR KIDS AND THEIR FRIENDS AND LETS PLAY BALL!!!

Boys and girls of each age group will play together.

Who ever shows up gets to play.

NO PRE REGISTRATION & FREE

6:30pm Tuesday nights

June 23rd - July 21st

We will divided teams each night, depending on who shows up.
Coed Sports
Adult & Senior Pickle-Ball League

6 week league with tournament

Senior dates Wednesdays Starting June 24th 10am-12pm $14.00/team (doubles)

Adult dates Wednesdays

Starting June 24th 6pm - 8pm $20.00/team (doubles)

Coed Slowpitch IS BACK!!!!!

GET YOUR TEAMS registered

HERE

Games begin Friday July 10th.

Coed Sand Volleyball

teams of four. $12.00/team

Wednesday Nights Starting July 8th (4 week season) 6:30pm-8:30pm
NEED A PERSONAL TRAINER?
Did Covid-19 keep you from being summer ready?

Did you gain the quarantine 15?

Sami Jo can help, by being your personal trainer! Coaching you every step of the way!

register today

Call, text, email today!

*through July 24th*
Summer Yoga P.M. Sessions
We are back at it with summer Yoga! Come in and relax and work on your flexibility with Karen!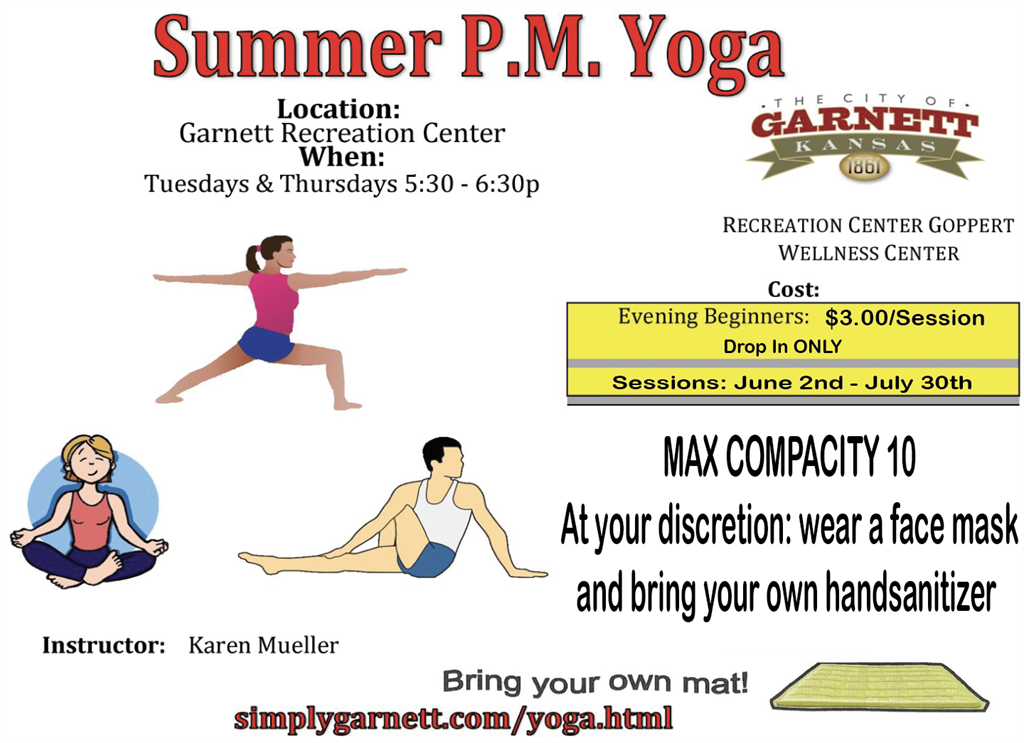 About THE REC, Garnett Recreation Center
Goppert Wellness Center

"The REC" has something to offer members of any age! Join for a day, month, or year and enjoy the benefits of a healthy lifestyle. The National Guard Armory has been transformed into a amazing workout center for our community thanks to the generous donations and support. If you would like to help support the Garnett Recreation Center, please see "building for the future" made possible through the Garnett Community Foundation.
Features:

Cardio Room

Weights & Conditioning Room

Aerobic Fitness Room

Cycling Room

Gym

Conference Room

Full Kitchen

Showers

Contact us today about renting all or part of the Recreation Center for your next event!



THANK YOU GOPPERT FOUNDATION!
The 24 hour access key card system and online registration system was made possible through a grant received by the Goppert Foundation.
The online system allows individuals to not only access memberships to The Rec, but provides for online registration of individuals and families for all recreation programs for youth and adults, as well as reserving park facilities and campsites.
The City of Garnett wishes to express sincere gratitude to the Goppert Foundation for making this technology possible for our patrons.